The Ford F-150 is a classic truck loaded with electronics and options. It needs a battery that is up to the task. This review will explore some of the best batteries for the 1997-2014 model years and the more recent 2015-2021 model years.
Best Choice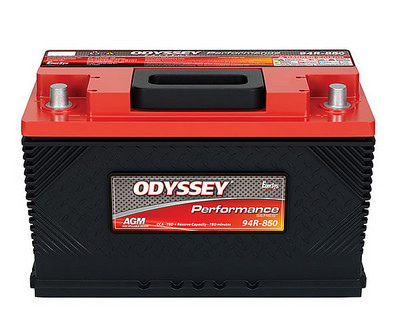 Odyssey Battery 94R-850 Performance Automotive Battery
Best Group 94R Battery
The Odyssey performance series is specially designed for models with a heavy electronics load, such as we find in today's F-150 trucks. The battery has 850 CCA and can hold a charge for 2 years without recharging
Read Verified Customer Reviews
Quick Comparison
Before we get into a more detailed review of the different batteries, here is a quick reference table to help you compare the specifications of each.
Ford F-150 Batteries for 2015-2021 Model Years
Ford F-150 Batteries for 1997-2014 Model Years
Product Reviews
The Ford F-150 went through a complete redesign in 2014, and those made after that time have different battery requirements. In this review, we will explore the top three batteries for more recent 2015-2021 models, and then, we will explore some of the best batteries for older model F-150s from 1997-2014. These batteries are evaluated according to specifications and how well they perform under actual driving conditions. Here are our top picks for your F-150.
Best Ford F-150 Batteries for 2015-2021 Model Years
Group 94 batteries are the most common type of battery in today's vehicles. It is found in passenger cars and trucks of many sizes. It is a common Ford F150 battery group. The Odyssey performance series is specially designed for models that have a heavy electronics load, such as we find in today's F-150 trucks.
Why Is It Recommended?
In our opinion, this is the best battery for Ford F150 trucks that are newer models. Of course, always consult your Owner's Manual to ensure a group 94R is the right size. If your Ford F-150 takes this type of battery, this one is recommended for several reasons. The first is that it is powerful and can hold a charge for up to two years in an open circuit. It is capable of complete recharge in about 4-6 hours. Also, you can mount it in any position, except upside-down. This battery has a long life and will start reliably on cold mornings.
Can hold charge for 2 years

Can handle heavy electronics load

850 cold cranking amps
Physically heavier than OEM battery

Should not allow to run completely dead
ACDelco is a trusted battery brand that has been around for decades. Now, they make batteries that use advanced technology to make them longer-lasting and more reliable. This battery uses a high-density negative paste that improves battery life and performance. It also uses a Silver Calcium alloy that also enhances battery life. ACDelco used a calcium lead positive grid to maximize conductive capacity and to lower battery resistance. ACDelco company did everything possible to provide the best atmosphere for the electrical current.
Why Is It Recommended?
This battery is recommended for many reasons. The advanced technology means that it is more likely to start in extreme cold weather and under adverse conditions. This technology also means longer battery life and longer battery reserve. We also like the leak-proof cap and strong, puncture-resistant envelope separator. This ACDelco battery for a Ford F150 is affordably priced for a battery that is this reliable.
Superior technology improves performance

Leak-proof caps

Durable outer material
Fast discharge with small current loads

Physically heavy

No handles for moving
Optima has a reputation as a battery that has excellent cold-starting capabilities and long life. They can last for over 300 discharge cycles and still keep going. The technology behind this battery allows it to have a long reserve life of up to 140 minutes if your alternator dies. It can take a deep cycle charge and has 800 cold-cranking amps, which means that you can count on it on cold days.
Why Is It Recommended?
Optima has a strong reputation for making batteries that perform perfectly for a long time. This makes them a lower cost over time. We like this battery because it is resistant to vibration, which can be vital if you have a big V8 in your Ford F-150.
Second, we like this battery because it seems to handle many accessories, all running at once, even heavy-load options like heated seats and premium stereos with big speakers. It is made for modern electronics-heavy F-150 models, including the Super Duty models.
The only downside to the Ford F-150 battery is that if you accidentally leave something on, like leaving your cell phone in the truck on charge or your lights on, it is not very forgiving and drains quickly. Other than that, it is one that we would consider to be an excellent, reliable choice for F-150 trucks.
Long battery life

Vibration resistant

Maintenance Free

Excellent starting power
Dies quickly when accidental loads are left on

Difficult to restore from completely dead

Long recharge time
Best Ford F-150 Batteries for 1997-2014 Model Years
The ACDelco Professional BCI Group 65 is an outstanding choice for your pre-2014 F-150. The Absorbent Glass Mat design is an upgrade in technology from the traditional flooded lead-acid battery. There is no liquid to spill out because the material is permanently held in the glass separator. AGM batteries have a longer life and better recharge capabilities than lead batteries, too.
Why Is It Recommended?
This battery uses superior technology, which gives you superior performance. For instance, it has two times the lifespan of a lead-acid battery. It is vibration resistant and has excellent starting ability in extreme heat and extreme cold. This one is maintenance-free and does not need to be inspected for leakage or fluid levels.
This battery has enough power to run vehicles loaded with modern electronics. ACDelco is a brand that we recommend for older trucks because they are durable and a little more forgiving of older parts on the vehicle, such as starters showing their age. Overall, this is an excellent choice for a reliable Ford F150 battery replacement.
Long battery life

Excellent for older vehicles

Maintenance-Free

Reliable brand

Spill-proof
Cold-cranking amps is at minimum for some larger Ford vehicles

Could use sturdier carry handle
As your F-150 gets older and gets a few more miles under the hood, having a quality battery is more important. Delphi is a trusted brand that can deliver reliable starts, even for old trucks. This battery is excellent for F-150s that are feature-rich with electronics, and it can handle the load. It is vibration resistant and has a heavy case. They also fortified the posts and welds.
Why Is It Recommended?
One of the best things that stands out about this battery is its heavy-duty feel. The case feels strong and like it is made from quality materials. The carry strap is heavy, too. You can be confident when carrying it even though it is heavy. They also fortified the posts and welds.
All of this comes together to create a battery the resists vibration, which can start in harsh conditions. We like this one because if your alternator dies in your F-150, you have 150 minutes of reserve power to get to a safe place. It is always good to have a battery that you feel that you can count on, just in case.
Excellent for cold starts

Heavy posts and welds

Heavy-duty straps for carrying

Can handle modern electronics
Some problems reported with batteries draining when sitting for long periods unused

Not strong enough for some listed Super Duty F-150 models
Odyssey makes a list for reliability and the ability to get you through the cold weather. Odyssey batteries are based on advanced technology that even works when your starter is a bit on the older side and needs extra help. This battery has an impressive 950 cold-cranking amps that can give your older Ford F-150 the boost that it needs to turn over.
This battery recharges quickly. It will not tax your alternator. If your alternator does die, you still have 145 minutes of reserve to get where you need to go. This Odyssey battery is the one that we recommend for reliability in colder climates.
Why Is It Recommended?
The battery is based on superior technology that gives it a few advantages over other batteries. It uses pure virgin lead plates rather than lead alloy. Each battery has more plates, and therefore, more surface area and more power. This Odyssey battery has a long life and can last over 400 cycles. All of this gives it excellent starting power and a rapid recovery time.
950 cold cranking amps

145-minute reserve

over 400 charge cycles at 80% depth of charge
Heavy to lift, could use stronger carry handle

Some problems reported with fast discharge in storage
Buyer's Guide
This review explored some of the best batteries for your Ford F-150 truck. The F-150 is an icon that dates back to 1975 when it was first introduced. Many things have changed since then. The Ford F-150 is known as one of the most long-lived and reliable trucks, which means that many older ones are still on the road getting the job done.
Ford Model History and Battery Design
Ford's 10th generation F-150 was introduced in 1997, with the F-series Super Duty coming on the scene in 1999. A short-loved 11th generation ran from 2004 to 2008. In 2011, Ford found the key to making Super Duty trucks that soon gained a reputation for having the most vehicles still on the road with over 200,000 miles. The twelfth generation ended with the 2014 model year. These earlier generations were not as loaded with electronics as modern ones, and they were made to accept a wider range of battery sizes.
Now, the Ford F-150 is in its 13th generation, which currently encompasses 2015 to 2021. Beginning with the 12th generation, significant advances in electronics were introduced into cars and trucks. Each of these innovations required more power, and consequently, bigger and more powerful batteries. The addition of features like heated seats, heated steering wheels, power-adjustable driver's seats, and similar technology meant the need for more battery power.
The addition of technology was one of the factors that influenced battery design. Today's F-150 trucks have a wide range of sensors that are always on. For instance, radar is used to power features like adaptive cruise control, blind-spot monitors, and surround-view cameras. This technology is always on and must be able to work in the background. In addition, people are using their F-150 batteries to power devices like smartphones and laptops. The battery must be able to handle the load.
All batteries presented on this list are some of the best in terms of the ability to start the truck reliably and handle electronics' load. Ideally, a battery should handle the load if the driver turns on everything at once. They also needed to have enough cold cranking amps to start the engine when the driver left heavy electricity items on, like the heater.
The challenge that battery manufacturers faced is that they needed more powerful batteries, but they could not make them physically better or more massive. This led to the development of technology that has better conductivity, like absorbent glass mat batteries. The batteries on this list represent state-of-the-art and can handle the demands that new F-150 trucks place on them.
FAQ
Regardless of the age and model of your F-150, you probably have quite a few questions when it comes time to buy a new battery.

What type of battery does a Ford F-150 take?
Prior to 2014, the Ford F-150 could use either 59 or 65 BCI group batteries. Starting in 2015, they required either 48, 98R, or 94R BCI group batteries. The 94R is one of the most widely available and fits most passenger cars, trucks, and commercial trucks. These batteries are also known as H6 and H7 DIN or 66L3/77L4 EN code batteries. These are only general recommendations, and the best source of information is your owner's manual.
How many cold-cranking amps are needed for a Ford F-150?
Before 2014, you needed at least 650 cold-cranking amps. For 2015 and after, you need at least 760 cold-cranking amps. Keep in mind that the cranking amps are often different from the cold-cranking amps. That is because of the effect of cold weather on the battery.
You should always buy a battery with at least the minimum cold-cranking amps recommended in the Owner's Manual. However, it does not hurt to go with a battery with higher cold-cranking amps, especially if you live in a climate that experiences extremely cold temperatures. If you live in warmer weather, you can usually get by with the recommended amount of cold cranking amps.
Also, some types of engines require more cold cranking amps than others. For instance, diesel engines and larger engines require more power to start. Besides, the older the vehicle gets, the harder it can be to start. A better battery can help to offset the age factor somewhat. If you do not have enough cold-cranking amps, then your truck will not start.
What is the Best Battery for a Ford F150?
As far as battery sizes are concerned, the best battery for your F-150 is the one listed for your truck in the Owner's Manual. Sometimes, the manual will even recommend specific brands or models. When they do, it is always a good idea to use the recommended ones for optimal performance.
If the Owner's Manual does not list specific brands, then you need to do some research. Today, battery manufacturers use vastly different technology. For instance, differences in the number of plates, whether they use virgin lead or lead alloy, and what type of metal is used in the posts can all affect battery performance. The most common technology used today is an absorbed glass mat (AGM). This technology provides more cold-cranking amps and better reserve power. They also tend to last longer than an older flooded battery.
Some batteries are now using a paste instead of fluid for the negative side of the battery. This has the advantage of keeping the barrier between the negative and positive side of the battery pristine. Using a paste also prevents spills and leaks, which were a concern with older flooded batteries.
You can also find some batteries that are adding calcium because of its better conductivity and lower resistance. Low resistance is important in battery manufacture because higher resistance decreases the ability of power to flow through the battery. All of the brands listed in this review use superior technology and are considered excellent brands for a Ford F-150.
How often should I replace my Ford F150 battery?
Most batteries come with a 36 or 48-month warranty. However, you will sometimes hear stories of batteries that last seven years. It is rare for one to last over 5 years. Many factors can affect the longevity of your battery. The first is the quality of the battery itself. However, even a good battery will not last long under certain conditions. Here are a few tips to help preserve the battery life of your F-150:
Turn off your headlights and accessories when the truck is off.
Do not turn on accessories, such as the heater, before trying to start your truck.
Keep your truck in a garage or shelter to protect it from extreme cold.
Go on a long-distance drive to allow your alternator to fully charge your battery.
Have your alternator checked regularly, even if the dash light is not on.
Regularly inspect the battery for leaks, corroded posts, and loose cable connections.
Do not allow your battery to drain to completely dead, if possible.
Final Considerations
There are many reasons why the Ford F-150 has enjoyed decades as a driver favorite. Keeping the battery in good working order and choosing the right one for your truck is an essential factor that will help you to enjoy many long years of service life from your vehicle. A Ford-F150 that is well-maintained can have an incredibly long lifespan.
Now, you know a little bit more about choosing the right battery for your Ford F-150. The batteries listed in this review are all excellent choices. One word of advice is to do your research and do not let price be the final factor in choosing the right battery. A battery that will last a long time is cheaper over the long term than replacing a battery more often.
Always consult your Owner's Manual and stick to the recommended battery. Ensure that you buy a battery that is compatible with your climate and take the vibration that it can experience when you take your F-150 out for some off-road fun. Purchasing a high-quality battery allows you to enjoy your Ford F-150, and the batteries listed in this Guide are a good place to start.

Eric Strong works in the automotive repair industry more than 12 years. His work included repairing electrical systems in various vehicle systems. A hybrid electric car battery replacement experience expanded his understanding of automotive battery technology. Read More…