Group 4H Battery Dimensions
Battery Design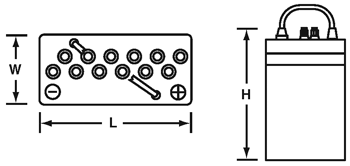 Dimensions and Sizes (Length x Width x Height)
10.75'' x 10.3125'' x 9'' Inches
273 x 262 x 229 Millimeters
Group 4H Battery Post Terminals
Post Terminal Types and Locations
Posts Used
Type "A"
or manufacturer's custom post design
Group 4H Battery Voltage and Current Characteristics
| Volts | Cells | CCA |
| --- | --- | --- |
| 24 | 12 | 125 |
Group 4H Alternatives and Closest Battery Groups by Dimensions
There are no direct interchangeable alternatives for group 4H battery if we speak about dimensions, but if your battery space hasn't strict limits, you can choose a little bigger or smaller battery group. If your battery compartment cannot accommodate a larger battery, you can choose a smaller one. In both cases, you must securely fasten your new battery with a battery holder. If your battery holder can't hold the alternative battery group, you can buy a universal battery holder to fit in different types of batteries.
Closest but not Identical Size Battery Groups
Battery groups in this section below are not identical to the group 4H battery, they can be a little bigger or smaller. Please pay attention to the post terminal types and their location
How to Get 48 Volts from 24V of a 4H Battery Group
If you need 48 Volts, you can connect two group 4H batteries in series to double the voltage. The voltage of a series connection is equal to the sum of the voltages of all its batteries. If one 24V lead-acid battery is connected to another 24V lead-acid battery, you have 48V total power output. Each battery must be fully charged and completely isolated from the other before connecting them in series, or there will be damage to at least one of them.
Increasing a Capacity of 4H Batteries with a Parallel Connection
If you need to increase current capacity and reduce charging time, connect batteries in parallel. When group 4H batteries are in parallel, their voltage is equal to the voltage of one battery, while current capacity equals to the sum of all its battery capacities. If you have two 24V lead-acid batteries with 120 Ah capacity and you connect them in parallel, you'll get 24 Volts with 240 Ah.

Eric Strong works in the automotive repair industry more than 12 years. His work included repairing electrical systems in various vehicle systems. A hybrid electric car battery replacement experience expanded his understanding of automotive battery technology. Read More…