A Group 4D battery is a common battery used to power appliances in RVs and to store power for solar power systems. If you need a 4D battery replacement, you can find a wide range of choices on the market. RV deep cycle batteries and solar systems batteries are different from the starting battery in your car. We will talk more about that in the Buyer's Guide, but for now, let's take a look at the top 6 Group 4D batteries on the market.
Best Choice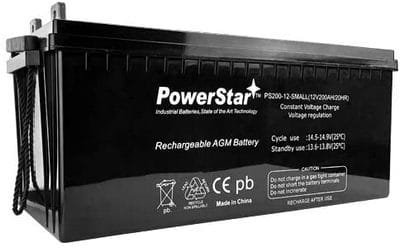 POWERSTAR Maintenance-Free Group Size 4D 12V 200AH AGM Deep Cycle Lead Acid Battery
The Best Group 4D Battery
This 200 amp-hour maintenance-free battery uses LED calcium grids that hold a charge for a long time, can accept a charge and recover quickly, even after a deep discharge. It's a good choice for your RV or solar power system.
Read Verified Customer Reviews
Quick RV and Solar Battery Comparison
Here is a quick comparison chart of the Group 4D batteries in this review before we get into a more in-depth product review.
Please note if the item is marked N/A, it means the manufacturer did not provide this information, and it's not available.
Group 4D RV and Solar Battery Product Reviews
Even though many Group 4D batteries have impressive cold-cranking amps, that is typically not the reason to buy one. BCI Group 4D batteries are known for their deep cycle abilities and the ability to be recharged many times without harming the battery life. While some on the market are dual-purpose batteries, most of them are designed for deep cycle use only, not for their cold-cranking amps and starting ability. If you need a deep cycle battery for your RV or solar power system, here are some we consider to be the best on the market.
This 200 amp-hour maintenance-free battery by PowerStar Is an excellent choice for your RV or solar power system. It's known for stability and reliability over time. The battery is designed to accept a charge and recover quickly, even after a deep discharge. It's forgiving when it comes to accidentally running down the power to a low level. This battery is also an excellent choice for storage situations. The battery uses LED calcium grids that hold a charge for a long time.
One of the main reasons why we recommend PowerStar batteries is their unique design and tough, durable casing. Its sealed construction allows you to mount it in any position, except for upside down. It's vibration and shock resistant and has a low-pressure venting system that can release excess gas and automatically reseal if gas levels within the battery become too high. PowerStar batteries use gas recombination technology that recaptures 90% of the gas it generates, so it will seldom need to vent. The heavy-duty lead-calcium plated provides a long service life, even in conditions less than optimal for most batteries.
Excellent storage ability

Vibration and shock resistant

Can withstand the deep discharge and recharge

Uses gas recombination technology

Low self-discharge rate over time
Large battery with thin carry handles
This NPP battery is designed specifically for PV solar panels, smart Chargers, wind power applications, and inverters. It can store 200 amp-hours of power and has button-style terminals. Users consider this to be an extremely reliable battery, and it's used in alarm systems, emergency lighting systems, firefighting equipment, standby power, and telephone switching systems. It provides a continuous, uninterrupted power supply and is the right choice for a computer standby power supply system. It has a rugged design and a case made from durable, non-conductive ABS plastic.
NPP batteries meet several International certifications, including ISO 9001, ISO 14001, CE, and UL certifications, which means NPP batteries are made to withstand shock, vibration, inclement weather, heat, and chemicals. This one is maintenance-free and uses advanced AGM deep-cycle technology. This battery is suitable for harsh conditions where other batteries could not hold up.
Suitable for conditions that require reliable power

Button-style terminals

Meets International quality standards
Terminals might not fit all connectors
This Casil battery is the most affordable one on the list, but it's undoubtedly an excellent choice for many deep cycle applications. It's known for long service life and deep cycle recovery. This battery has proven performance in both high and low temperatures. It uses Advanced AGM design and requires no maintenance over its lifetime. The battery is recommended for solar applications, fire alarms, mobile phones, and powering toy devices.
Casil Batteries are designed with durable cases shock and vibration resistant. They use state-of-the-art AGM technology and a heavy-duty calcium-alloy grid. This gives them reliable performance in tough conditions and allows to use these batteries in medical mobility devices, Powersports, golf carts, lawn and garden tools, and many other applications involving bumps and traveling over rough ground. They are reliable enough to power traffic lights, telecommunication systems, equipment, and are perfect for most solar power applications.
Suitable for a wide range of applications

Maintenance-free AGM design

Durable, shock resistant case

Spill-proof design
Lightweight plates will self-discharge

Rectangular battery terminals might not fit all connectors
The VMax 200 amp-hour battery Is a military-grade battery chosen for its durability and long service life. It has heavy-duty plates and a sealed design that can be mounted in any position. It's maintenance-free and designed to have a 99% recovery of any gases produced. This makes it suitable for use in an enclosed environment, as in a battery bank for solar power.
This battery only offers a 12-month warranty, but many customers report the battery has lasted about 8-10 years when it's cared for properly. To get the longest life possible out of this battery, you should use a charger with a microprocessor that meets battery manufacturer specifications. This battery uses a unique plate design and separator design that allows it to have maximum conductance. The unique design gives them excellent reliability and performance when it counts.
Unique design for reliability and performance

Known for a long life

Military-grade construction
Length is slightly shorter than the standard 4D battery

14.5V smart charger or microprocessor charger recommended
Universal Power Group specializes in batteries designed for solar applications. The battery is an AGM design, maintenance-free, and spill-proof. It has a rectangular top post design for solar power connections. This battery is a common choice for those who want to go off-grid and need a reliable power source. It has a durable case and is able to withstand shocks and vibration. This makes it suitable for RV use, too.
This battery is specifically designed for solar power storage, but many people with RVs also report consistency and reliability for powering their appliances. Its durable, AGM design also makes it suitable for Powersports where it needs to be able to withstand vibration and continuous shocks. One of the reasons that makes this battery stand out is its ability to withstand hotter climates yet still has a slow self-discharge rate under these conditions. This makes it perfect for storage in warmer conditions.
Durable design

Perfect for warm climates

Made specifically for solar grids

Good for RV appliances
Continually discharging to low power levels shortens the battery's life significantly
Mighty Max lives up to its name when it comes to the ability to perform well under circumstances that would damage many other batteries. This battery has an SLA/AGM spill-proof and maintenance-free design. It can provide 200 amp-hours of power and is made to resist shock and vibration. This design gives it a long life, and it's made to withstand a wide range of high and low temperatures. It has excellent deep discharge recovery for those moments when you accidentally forgot to turn off your RV appliances.
We chose this battery because customers report excellent performance and long life under a range of uses. This battery has received excellent reviews when used in sailboats, recreational golf carts, wind power applications, and for use with many different types of solar panel brands. It works with a wide range of chargers, too. Its design is spill-proof and allows it to be mounted in any position. Versatility and reliability under harsh circumstances are the reasons why we chose this battery.
Durable, spill-proof AGM design

Long service life

Withstands extreme temperatures

Suitable for a wide range of applications
Nut and bolt terminal might not fit all connectors
Buyer's Guide
Group 4D batteries are some of the most versatile on the market. They are used in a wide range of applications, including RVs, boats, solar power, wind power, emergency use, alarm systems, and any application that requires a steady, continuous flow of power. Group 4D batteries are designed to discharge slowly and provide uninterrupted power for long periods of time. Most batteries of this type now use SLA and AGM design. SLA stands for sealed-lead-acid, which means the battery is designed to be spill-proof and leak-proof. AGM stands for absorbent glass mat, which uses a mat to hold the battery acid, reducing spills' potential. Batteries that use a combination of SLA and AGM design can be safely mounted in any position, except upside-down. This allows you to use them in a wide range of applications, as long as you have the correct battery holder.
Many of the better battery designs have an efficient gas recovery system, and are self-vented. This prevents dangerous gas from building up. Gas recovery and venting systems allow them to be used in enclosed spaces, such as a building that holds a battery bank. Most of the ones on this list have these characteristics, but this is not true for all Group 4D batteries, so you will need to check the specifications. Now, let's answer questions you might have about Group 4D batteries.

What is a 4D battery, and where is it used?
Most Group 4D batteries have the words "deep cycle" in their name. It's possible to find some dual-purpose batteries in this category, but most of them are recommended for deep cycle use only. They are designed to provide a continuous power discharge rather than the rapid power discharge needed to start a car. Many RVs and boats require a separate battery for starting and another one to run the electronics and appliances.
Although many Group 4D batteries can produce between 950 and 1100 cold-cranking amps, it's not recommended to use them as starting batteries. Many of them can only withstand this type of use for a few times before they will lose their ability to recharge. Group 4D batteries have some of the longest reserve capacities and can typically produce between 250 and 390 minutes of power between charges. This is the purpose for which these batteries were designed. Group 4D Batteries range between 180-215 amp-hours. The ones on this list were all rated for 200 amp-hours.
What are the dimensions and weight of a 4D battery?
A BCI Group 4D battery is 20.75 x 8.75 x 10.0 inches. They are typically between 110-130 pounds or more, depending on the thickness and number of plates. They are heavy batteries and can be difficult to lift into place.
How many years would an RV deep cycle 4D battery last?
The batteries on this list have warranties that last between 12-24 months. Some deep cycle batteries have been known to last up to 8 to 10 years. Your battery's life depends on the quality of the manufacturing, how long it's stored, the conditions of storage, and how well you take care of it.
Avoiding deep discharge to low levels is not recommended for any battery, including those designed for deep cycle use. Forgetting to turn off your RV appliances or operating the battery for long periods between charges can reduce the battery's life. If you put your RV in storage in an unheated building and leave the battery in it, this may cause it to discharge to a low-level and will shorten the battery life. It's best to charge your battery as often as possible to keep it working at its peak performance.
Other things that shorten your battery life include using it as a backup battery for a power generator and not using the charger recommended by the battery manufacturer. Although some fast chargers are available, deep cycle batteries typically perform best when charged slowly. This is why they are perfect for solar charging and long trickle charging cycles.
How many volts, amps, and watts in a 4D deep cycle battery?
BCI Group 4D batteries are 12V batteries rated for 20-25 amps. Watt is the voltage times current in amps. Most Group 4D batteries are from 240 to 300 watts. This equation gives you an approximate figure because you also have to figure resistance into the equation too. Resistance can differ according to things like the type of wiring used for the battery harness, the age and condition of electrical components, fuses, contacts, temperature, and many other factors.
What are the differences between car battery groups and Group 4D batteries?
Car battery groups and Group 4D batteries are made with different technology and are meant for different purposes. When someone talks about a car battery, they typically mean the battery used to start the car. This is called an SLI or starting-lighting-ignition battery. These batteries usually use thin LED plates designed to discharge at their power quickly over a short time. They must overcome the inertia of the engine sitting still and provide enough power to put it into motion.
On the other hand, a Group 4D Battery is meant for its deep cycle use to provide a steady, but a lower amount of power over a longer period of time. They typically have thicker battery plates to accomplish this take. This gives them several other characteristics, such as the ability to be stored for a long time without self-discharge and withstand low discharges more frequently without damage.
In both car and Group 4D batteries, you will find some rated as dual-purpose batteries and means they have both thick and thin plates inside. Not all Dual-purpose batteries are the same. Some of them are weighted more towards the SLI end of use with only slightly better deep-cycle capabilities than other SLI batteries. Likewise, you will find some Group 4D batteries can also be used as starting batteries, but once again, their ability to withstand this use is limited.
When considering a dual-purpose battery, it's still more likely to be more towards either the SLI or deep-cycle end of the spectrum. Few batteries can be considered true dual-purpose batteries equally balanced towards SLI and deep cycle capability without reducing your capabilities. It's always recommended to purchase a battery designed for your specific purposes.
Can you use a car battery to run your RV appliances?
The answer to this question is yes, but you can only do it a few times. Your car battery is designed to discharge its power quickly and not to be discharged to the levels of a battery designed to run your RV appliances. In an emergency situation, you can do this a couple of times, but you can also expect it to degrade your car battery's life significantly. In some cases, you might only be able to do this two or three times at the most without completely ruining the car battery. It's always best to use a deep cycle battery designed for RV and solar power use or your appliances and electronics.
Can you use your car battery for solar power storage?
Yes, you can use your car battery for solar power storage, but you can't expect optimal performance when using it this way. Car batteries use different technology than deep cycle batteries designed for solar power storage. They have thinner plates and will often self-discharge and drain completely if they are not charged frequently. Deep cycle use of a car battery will shorten its life span. Even if you buy a car battery that says it's rated for deep cycle use, this rating is in comparison to other car batteries, not in comparison to those designed for long-term deep cycle storage use. Car batteries and solar power storage batteries are a different class of battery.
Final Word
Now, you have our picks for the best deep cycle Group 4D Batteries for solar power and RV use. Our favorite is the NPP NPD 12-200AH Deep Cycle Battery because it's made to withstand harsh environments and still work reliably. It's the choice of many emergency services providers and meets international quality standards. The development of battery technology parallels advances in solar and alternative power sources. In the future, deep cycle storage batteries can be expected to be even more reliable and meet longer-term power storage needs.