A BCI Group 35 battery is a standard battery size for a wide range of cars and small trucks. It has a top-post design and fits popular models, including Toyota, Nissan, KIA, Ford, and other models. It is the recommended Honda Accord and CR-V battery for many models. If your car or truck needs a 35 battery, this review will help you find the best 35 battery replacement.
Best Choice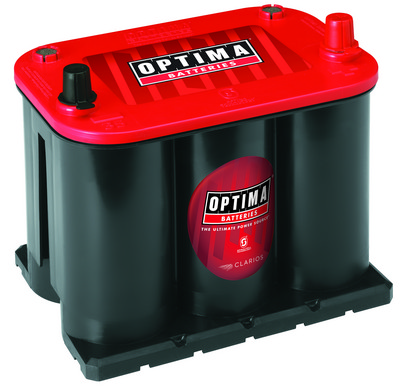 Optima Batteries 8020-164 35 RedTop Starting Battery
The Best Group 35 Battery
This AGM battery has 720 CCA and 90 minutes of reserve capacity. Optima RedTop batteries are known for their strongest starting burst and resistance to vibration, making them perfect for construction equipment, trucks, and off-road vehicles. It's excellent value for money.
Read Verified Customer Reviews
The Best Group 35 Battery Quick Comparison
BCI Group 35 batteries are automotive batteries for passenger cars, trucks, light commercial, and recreational vehicles. The best place to determine if a 35 battery is recommended for your vehicle is to consult your Owner's Manual. The batteries on this list are the ones we consider to be the best on the market. Now, let's explore our top 6 picks.
Image
Product

Best Choice




Optima Batteries 8020-164 35 RedTop Starting Battery

Cold Cranking Amps (CCA): 720, Reserve Capacity (RC): 90, Amp-Hours (AH): 44
Battery Group: 35
Type: AGM
Warranty: 36
Best SLI Starting Battery


Check Price

Best Value




Delphi BU9035 MaxStart AGM Premium Automotive Battery

Cold Cranking Amps (CCA): 680, Reserve Capacity (RC): 100, Amp-Hours (AH): N/A *
Battery Group: 35
Type: AGM
Warranty: 36
Best for Heavy Electronics Use


Check Price

Also Great




Exide Edge FP-AGM35 Flat Plate AGM Sealed Automotive Battery

Cold Cranking Amps (CCA): 650, Reserve Capacity (RC): 110, Amp-Hours (AH): 53
Battery Group: 35
Type: AGM
Warranty: 48
Best for Stop-and-Go Traffic


Check Price

Good Choice




Optima Batteries 8040-218 D35 YellowTop Dual Purpose Battery

Cold Cranking Amps (CCA): 620, Reserve Capacity (RC): 98, Amp-Hours (AH): 48
Battery Group: 35
Type: AGM
Warranty: 36
Best Dual-Purpose Battery


Check Price

Good Choice




NORTHSTAR NSB-AGM35 Pure Lead Automotive AGM Battery

Cold Cranking Amps (CCA): 740, Reserve Capacity (RC): 115, Amp-Hours (AH): 60
Battery Group: 35
Type: AGM
Warranty: 48
Best Long-Life AGM Battery


Check Price

Good Choice




Arc-Angel Group 35 LiFePO4 Battery

Cold Cranking Amps (CCA): 900, Reserve Capacity (RC): N/A *, Amp-Hours (AH): N/A *
Battery Group: 35
Type: LiFePO4
Warranty: 120 (10 Years)
Best Automotive Lithium Battery


Check Price
Top 6 Product Reviews
Let's take a more in-depth look at technologies and batteries' specifications.
Optima is known for its reliability and suitability for high-performance cars. It is a Starting-Lighting-Ignition (SLI) battery designed to deliver a quick burst of power in a short period. Optima RedTop batteries are known for their cold-cranking amps and resistance to vibration, making them perfect for construction equipment, trucks, and off-road vehicles.
This battery is not designed for deep cycle use. It might not be the right choice for vehicles with a lot of electronics. The Optima Redtop has 90 minutes of reserve capacity, but discharging it to low levels frequently will shorten its life. Optima batteries are an excellent choice for those who need a reliable battery for starting in cold weather. It is a lightweight battery and easy to install.
Why We Recommend It
The Optima RedTop has standard SAE posts, so it will fit a wide range of US vehicles. It has a durable case made from polypropylene, which makes it resistant to bumps and shocks. One of the main advantages of this battery is its fast recharge cycle after the initial starting burst. This battery has a spillproof design and can be mounted on its side.
Many people use this battery for trucks, SUVs, hot rods, and performance cars. Its spiral cell technology uses 99.99% pure lead plates coated in lead oxide, provides excellent conductivity and power. It's recommended for passenger vehicles, RVs, heavy equipment, and diesel vehicles without excessive aftermarket electronics.
Fast recharge rate

Excellent for cold weather

Durable case

Vibration resistant
No handles

Not made for repeated deep cycle discharge
Delphi brand batteries are known to provide steady power in today's modern vehicles with heavy electronic loads. If you have a vehicle equipped with multiple cameras, sensors, advanced safety technology, and a powerful stereo, this is an excellent choice. Features like heated seats, power moonroofs, and wireless charging capabilities place a heavy load on the battery, too. These cars have sensors that are always on, and the load can add up quickly. If you do not have a battery that can handle the load and provide continual voltage, your electronics will not work correctly.
Why We Recommend It
This battery performs well in extremely cold temperatures, making it the best choice for cold, northern climates. Delphi batteries are known for their durability and reliability in high-vibration environments. Another reason why Delphi batteries are so popular is their long life, lasting for many years beyond their warranty if cared for properly.
The Delphi MaxStart is an excellent value because it is a reliable battery at an excellent price. This battery is corrosion resistant and has an excellent AGM design for maximum contact between the lead plates and acid. This improves conductivity to create a reliable battery that you can count on to start when you need it.
Durable case

Reliable cold starting power

Suitable for heavy electronics use

Long battery life
Long carry handle feels unstable
Exide makes an excellent battery for superior performance in conditions that make other batteries wear out quickly. It has excellent cold-starting capability and a 110-minute reserve capacity. Exide offers a 48-month warranty, which is longer than most AGM batteries on this list.
Stop-and-go traffic is one of the most difficult conditions for batteries. The electronics are typically on, and the battery does not get significant charge time from the alternator because the car is idle. Driving in stop-and-go traffic reduces the life of batteries not made for heavy load, but this is one area where the Exide Edge excels. It can withstand heavy use in slow traffic without a significant loss of battery life.
Why We Recommend It
The Exide Edge uses SureLife Graphite Technology to improve energy capacity and battery life. It uses spillproof AGM construction and can be mounted in any position except upside down. It outperforms many batteries in one of the toughest stress tests and real-world use. Exide Edge batteries are known for their ability to perform like new for many years of heavy use.
In our opinion, this is an excellent choice for a reliable battery. One drawback of this battery is its tendency to discharge quickly, especially if you leave the lights on or a phone charging overnight. It is excellent for stop-and-go traffic, but it can't handle even a small discharge overnight with no charging from the alternator. Discharging it to a low level frequently will shorten the life of the battery. If you choose this battery, it is recommended to double-check electronics before you exit the vehicle. If you do make a mistake, it recharges quickly with a high-quality charger.
Good for stop-and-go traffic

Reliable for cold starting

Spillproof

Maintenance free

Durable outer case
Will discharge quickly if lights are left on

Frequent low-level discharges shorten the life
The Optima YellowTop has a solid reputation as both a reliable starting battery and a deep-cycle battery. It has a good balance between constant discharge for cars with heavy electronics use and continual drain and the ability to provide short starting bursts. It has SAE posts and will fit most vehicles. Optima batteries have a long life, and this one has been tested to withstand over 300 discharge and recharge cycles. It is lightweight and easy to install. It is vibration resistant and durable.
Why We Recommend It
This battery uses Spiral Cell technology to create stable performance over time. One reason why we like this one is its resistance to the occasional mishap when you leave your lights on. Although this is not recommended, this battery's deep-cycle capabilities make it more resistant to accidental damage from deep discharge. We would recommend this battery if you have a vehicle that only gets seasonal or occasional use. The Optima YellowTop can be stored for long periods when hooked up to a car without significant discharge over time. If you are a person who must park your car in long-term storage, this is the best battery to make sure it will start when you return, which is something few batteries can do.
Many batteries we have examined in the past claim to be dual-purpose, but the Optima YellowTop is one of few which can live up to the claim. This makes it an excellent choice for modern cars loaded with accessories. It is also a perfect choice for northern climates where cold-starting capability is essential. Many choose this battery for heavy equipment like tow trucks with winches, snowplows, forklifts, tractors, and commercial vehicles.
Suitable for heavy-duty commercial use

Excellent cold-cranking ability

Stable in long-term storage

Resistant to damage from deep discharge
Lower cold-cranking amps

Lower comparative reserve capacity
Northstar Pure Lead batteries use thin-plate AGM technology to pack more plates into the battery, creating more surface area for contact with the acid. When it comes to performance, it delivers excellent cold-cranking amps and starting power. It has 740 cold cranking amps at -18°C (0°F). It has a high reserve capacity and a long battery life, too.
The additional plates in the battery add considerable weight, and it can be heavy to place in the vehicle. It has a sturdy, integrated handle to make the job easier. This battery is recommended for cars equipped with start-stop technology, which can be hard on batteries. They must discharge numerous times during a single trip and must start the car every time it comes to a stop. Vehicles with this technology might not be driven for long enough periods between charges by the alternator. This is especially true for city driving.
Why We Recommend It
NorthStar batteries are made for one of the most challenging scenarios in battery design. This brand stepped up to this challenge, and this battery has a quicker recharge time than the average battery. They are rated for over 900 discharge/recharge cycles at a depth of 50% discharge. This makes it perfect for stop/start technology and for those who must frequently drive in stop-and-go traffic. Northstar ensures precise dimensions to BCI specifications for a perfect fit. It has a durable plastic case that provides excellent heat and cold resistance.
The superior technology of this battery makes it stand out. All NorthStar batteries are compliant with ISP 9001 and ISO 14001 standards. They comply with all Battery Council International standards, are UL approved, and meet UN2800 certification standards.
Long battery life

Recommended for stop/start technology

Excellent for deep-cycle applications

Good for challenging discharge/charge conditions
Has side ridges that might cause fitting problems in some cars

Heavy weight makes it difficult to install
This one makes the list as one of few lithium batteries approved for automotive use. The Arc-Angel is a Lithium-Iron-Phosphate battery and does not use lead-acid technology. The main advantage of this battery is its impressive 900 cold-cranking amps. It also has a 10-year warranty, but many have reported this battery lasting for more than 10 years.
Why We Recommend It
The battery is maintenance-free and represents the next stage in battery technology. One of the disadvantages is its initial expense, but its long life means that it pays for itself over time. This battery has a strong carry handle with a sturdy feel. It is also lightweight and easy to move.
This one is a high-performance battery and is a popular choice for race cars and competitive vehicles. You can charge this battery using a standard battery charger, but it is recommended that you use a charger specifically designed for LiFePO4 batteries. You should not use a charger with an output of greater than 15 volts, which can damage this battery.
Made for race cars and performance cars

Uses advanced LiFePo4 technology

Extremely long battery life

Excellent deep discharge capability

Reliable for cold starts
LiFePO4 charger recommended
Buyer's Guide
Now you have our top picks for Group 35 batteries. Technology continues to advance, offering more options with a longer life and the ability to handle the increasing electronic loads of today's vehicles. Here are a few of the most common questions that we get about group 35 batteries.

What is the best 35 battery?
The top six batteries on this list are all excellent choices. When it comes to batteries, it isn't easy to name an overall best choice. Which one is best for you depends on the way you drive, weather conditions, and whether your vehicle is loaded with electronic features. The best battery for your car is always the one recommended by your Owner's Manual. Beyond this, it is a question of what characteristics you consider most important. For instance, if you live in a cold, northern climate, cold-cranking amps are most important. If you live in a warmer climate and have a vehicle with all the latest electronics, a deep-cycle battery is the best choice.
Who is the best battery 35 group manufacturers?
The question of the best group 35 battery manufacturer depends on the characteristics that you want the most. All of the manufacturers on this list are a good choice. They are known for quality and are top-of-the-line brands. Each one specializes in batteries with certain characteristics. For instance, they might focus on cranking amps, reserve capacity, or long life. Each manufacturer has strengths and weaknesses. You should choose one that focuses on the most important characteristics to you and your driving conditions.
What size is a group 35 battery?
A group 35 battery is 9.1-inches long x 6.9-inches wide x 8.9-inches high.
What is LiFePO4 technology? What is the difference between AGM and LiFePO4 batteries?
Absorbent Glass Mat (AGM) batteries are an advance over flooded lead-acid batteries. They use acid coming into contact with lead plates to generate electricity, but an AGM battery uses a glass mat to hold the acid. This creates better contact between the plates and the acid, which results in more efficient electrical production.
Lithium batteries have been around since the mid-1980s, and they are most familiar in the world of power tools and small electronics. They are made to be discharged and recharged over many cycles. The most common type of lithium battery used in cars is the Lithium-Iron-Phosphate (LiFePO4) battery. This type of battery is more efficient than AGM batteries, and many times more efficient than older flooded lead-acid batteries.
LiFePO4 batteries are smaller, lighter weight, have a higher capacity than AGM batteries, and have a longer lifespan. Many people are choosing this option for RVs and solar power. One of the main disadvantages is that they are more difficult to find, and they are more expensive than AGM batteries, but this is likely to change in the future.
How do you replace a group 35 battery?
Replacing a group 35 battery is much like changing any other type of battery. In most vehicles, it is an easy process. Before you begin, make sure that you have an adjustable crescent wrench or socket set available. You will also need a rag to wipe everything down, and a wire brush or sandpaper. Here are the steps.
Make sure the car is turned off, and the emergency brake is set. Open the hood and use the hook to prop it up.
Use the crescent wrench or socket set to loosen the nut around the negative battery terminal. You only need to loosen it enough to allow the terminal connector to slide off the battery post. Repeat for the positive terminal.
Loosen any wing nuts or hex nuts on the battery hold down or unfasten the straps.
Gently lift the battery from the tray.
Inspect the tray for damage or rust. If needed, replace the tray with a new one.
Place the new battery in the holder. Make sure that it is in all the way and has a tight fit.
Reassemble the battery hold down clamps, or fasten the battery straps.
Check the terminal connectors for any corrosion. Clean them with a wire brush or sandpaper.
Replace the terminal connectors on the posts, starting with the negative terminal. Tighten the nuts until the connector can no longer be removed from the post.
Start the car to make sure everything works.
Can you use groups 35, 24F, or 51R in a Honda CR-V?
The answer to this is that it depends on the model year. If you choose to use a group 24F battery in your Honda CR-V, you will need to replace the battery tray because group 35 and 51R are different dimensions than a group 24F.
How long do group 35 batteries last?
The length of time any battery will last depends on several factors. Batteries stored in extremely hot or cold temperatures will not last as long as those stored within recommended temperatures. If you continually drain an SLI (Starting) battery, it will shorten the life. Most batteries on this list have a 36-month warranty. Some have a 48-month warranty, and the LiFePO4 battery has a 10-year warranty. Keeping your battery properly charged will help you to get the most out of your battery life.
How many amp-hours is a group 35 battery?
Most group 35 batteries have between 44 and 60 ampere-hours.
How long does it take to recharge a group 35 car battery?
How long it takes to charge a car battery depends on the charger's amperage and how much the battery is discharged. A 1.5-amp trickle charger will charge a 40-60 amp battery in about 15 to 19 hours. An 8-amp charger can do the job from 100% discharge in about 3 to 4 hours. A 15 amp fast-charger can charge a group 35 battery in about 2 hours.
It might seem like a fast charger is better for the time involved, but there are some caveats. A fast charger can push the battery beyond its ability to absorb the charge and lead to overheating. It can damage your battery permanently. Typically, chargers over 15 amps are not recommended for small batteries, like group 35. Slow and steady charging is the best way to preserve the life of your car battery.
Final Word
Now you understand a little more about group 35 batteries and how to choose the best one for your car. All the batteries on this list are an excellent choice for cold starts and long battery life. Before choosing a battery, you need to evaluate your needs, climate, and the electronics load on your battery.
Five of the batteries on this list are AGM batteries and represent an improvement over older flooded-type batteries. The last battery is a LiFePO4 battery and represents the next step in automotive battery evolution.

Eric Strong works in the automotive repair industry more than 12 years. His work included repairing electrical systems in various vehicle systems. A hybrid electric car battery replacement experience expanded his understanding of automotive battery technology. Read More…